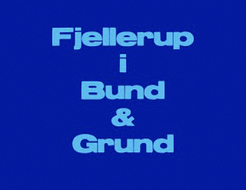 The Fjellerup project is a way for me to create a bridge between the depopulated, coastal region where I grew up in Denmark and the place I have chosen to live, NYC, through conceptualizing and organizing artist projects and local/international intersections.

The people I met in Nyack, NY, in 2011 - who organized a community to preserve the house where Edward Hopper grew up - inspired me to bring attention to various Fjellerup sites, including the old "ice houses," where fishing families stored ice collected during the winter in order to keep fish cold in the summertime.

For the summer of 2013, I organized hosting and six site-specific & socially engaged work - for myself as well as for Norbert Francis Attard, Julia Whitney Barnes, Monica Carrier, Johanna Nelson and Christine Sciulli.




Fjellerup, Denmark
Fjellerup is a costal village, with records dating back to 1423, and a current population of around 400 people, most living "in town" and a more seasonal population by the beach. The town's primary sources of income, pound net fishing and tourism, peaked in the 1950's and 60's and gradual depopulation has resulted in parts of the place showing signs of neglect, beautiful ruins and resilient local stores.

The population is homogeneous and predominantly elderly.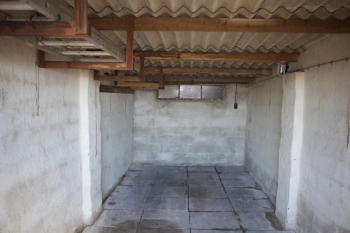 Site 1: Brisen's Garage
From 2010 to 2012, as my family of origin continued to shrink, I decided to clean out the garage and sheds of an inherited cottage in Fjellerup - in order to start an artists space of sorts. My father's death in 2011 introduced me to co-ownership with relatives with whom I have few interests in common, it also resulted in my attempt to figure out, what my relationship is to the country in which I grew up.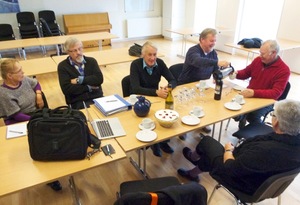 First Fjellerup meeting, October, 2012
The answer to my questions of connection, came through locals I had never met. When making changes to the family cottage, I came into contact with a farmer, Ole Willesen, who also owns a machine station, and he took down my father's Ham Radio mast. As we continued to meet for tasks, I told him I was interested in doing the same in Fjellerup as I do in my chosen home of New York City: make & organize art. He, in turn, told me of a recent town meeting at the local community house and made an introduction to the town kingpin, Bent Sølyst.

When I told Bent of my ideas, he made an introduction to the local cultural council and organized a meeting with locals to help realize my project and ideas for the following summer. First task for all: finding hosts for visiting artists and getting local stores to donate goods.

My presentation of Fjellerup i Bund & Grund to Fjellerup town - along with locals who presented on a jetty and multi-track field (all three projects were realized.)
April, 2013
Because I was able to secure funding from Norddjurs Kommune (local cultural council) and Fjellerup Kræmmerforening (the organization that runs Fjellerup's biannual junk-market,) I was able to not just organize my own garage exhibition but also to invite five other artists (four from the US, one from Malta) to travel to Fjellerup and make site-specific work: Norbert Francis Attard, Julia Whitney Barnes, Monica Carrier, Jo. Q. Nelson and Christine Sciulli. I matched each visiting artist with a site and suggestion for work, organized openings and became the middle link to locals in Fjellerup - where I am both an insider and outsider, having not known anyone prior to starting the project.

I named my project "Fjellerup i Bund & Grund," deriving from a Danish pun on the words "bund" (bottom, as in "bottom of the sea") and "grund" (as in a "lot" for a house;) when used together, the two words form a new meaning in Danish, "utterly."

Gjerrild Egnsarkiv
For my own art work, I chose to visit a local archive and research a Fjellerup woman, Klara Hansen, who became Denmark's first female fishing exporter, after her husband drowned in the Kattegat Sea by Fjellerup in 1938.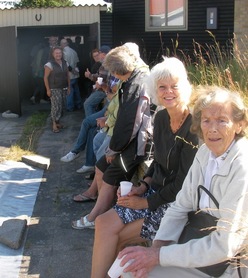 The opening of my garage exhibition, Klaras Skygger (Klara's Shadows.)
July 14th, 2013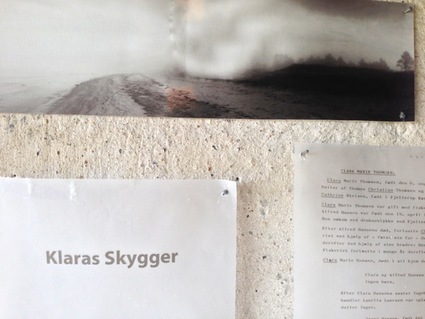 For the exhibition, I integrated archival images with my own landscapes from Fjellerup, and made Klara walk through Fjellerup during different seasons - telling the story of her first year as a widow, with a 12 year old daughter.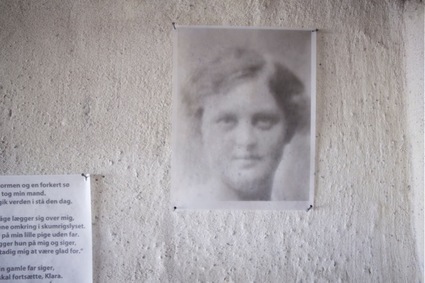 In the story on the walls, Klara talks about her father advising her to take over her drowned husband's business - and of her father's belief in her. I integrated my own father - a bit of a hoarder - through using some of his old tools and scrap that I found in the stuffed garage. This became part of the exhibition and its frame - along with the textured walls of the garage. My father's iron wire became a buoy, his blue metal a wave.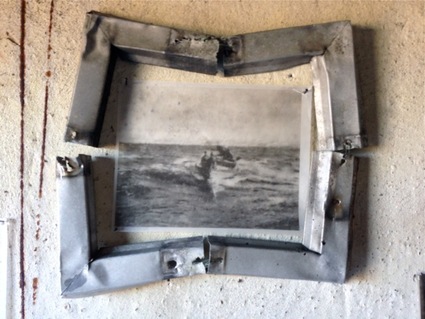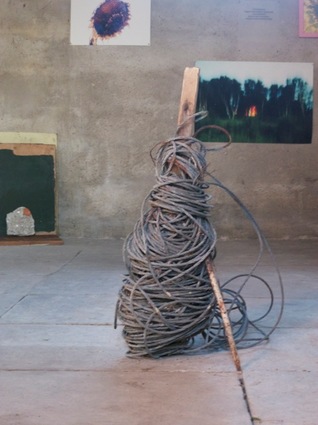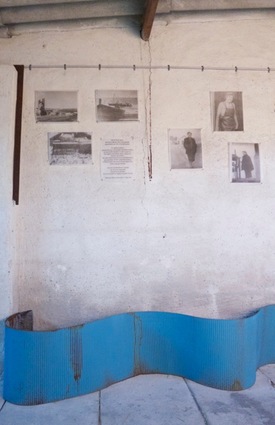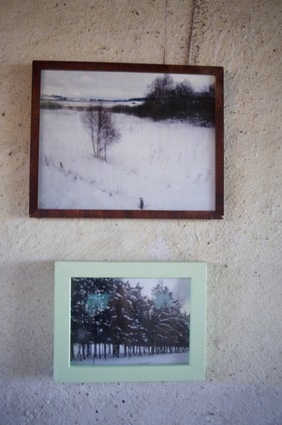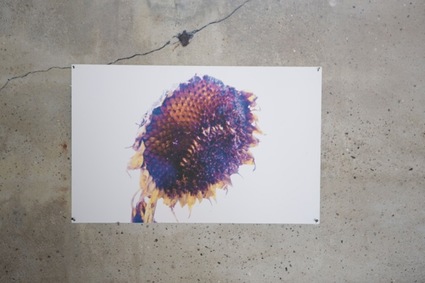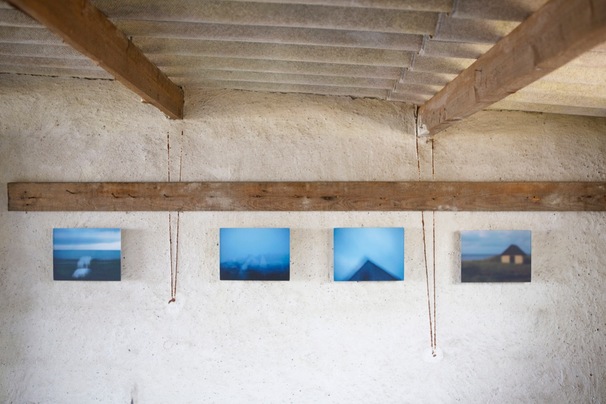 article on Fjellerup's mackerels, 2013
Translation of text on wall, from newspaper interview with Klara:

I can tell by the sky,
whether it will be be storm or quiet,
rain or frost.
I have not regretted,
I followed my Dad's advice.
One can drown one's sorrows in work,
and find new meaning in life,
by working with other people.
That's what happened to me.
I'm fond of this place.

Strangely, during the 2013 summer months of the Klara exhibition, the was a sudden resurgence of mackerel - mirroring the 'mackerel adventure' that took place during the first summer, Klara took over her husband's business.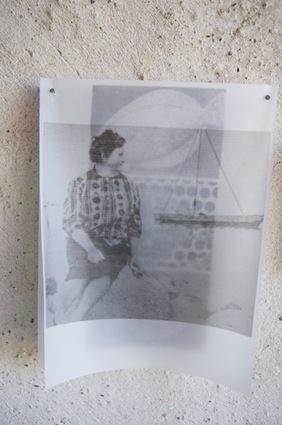 I placed the last public image of Klara - announcing her retirement in the early 1960's - on top of images of a flounder adapting its exterior to various backgrounds in order to survive. The flounder is the fish, I associate with Fjellerup, and Klara sits on a rock in the image like a rotund Fjellerup version of the Little Mermaid statue in Copenhagen. By the time of Klara's retirement, pound net fishing had already declined drastically.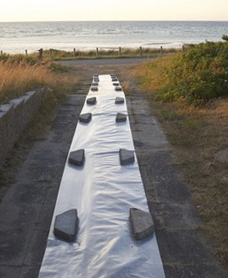 My weather-proof runner, leading visitors to garage and daily conversations about Klara and Fjellerup.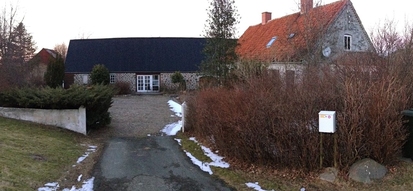 Site 2: local gallery
My dream space for the work of artist Monica Carrier, was the barn of local artists and social workers, Tommy Soerensen and Vibeke Gilling. They had shut down their gallery in the barn they restored, due to lack of visitors and sales, but nevertheless liked the idea of Monica exhibiting there.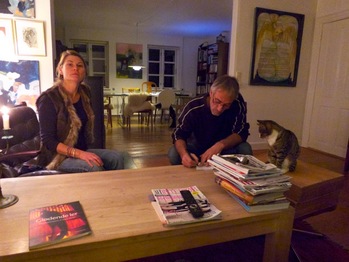 Gallery hosts
October, 2012
The night I made a cold knock on Vibeke's and Tommy's door, and introduced myself and ideas.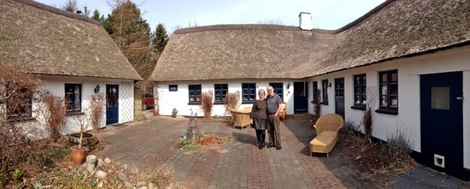 Home hosts
After I made the town presentation on Fjellerup i Bund & Grund, I got an email from Birgit Schultz & Thomas Borg, offering an entire section of their home to host artists - perfect for Monica as she was bringing her family.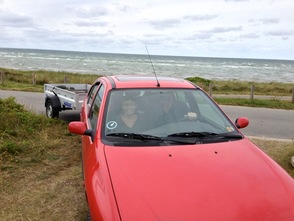 Logistics of pick-up was part of my responsibility, and both my brother and sister helped me in this. Here, my brother, Niels Peter, arrives with Monica & co to Fjellerup - with luggage in trailer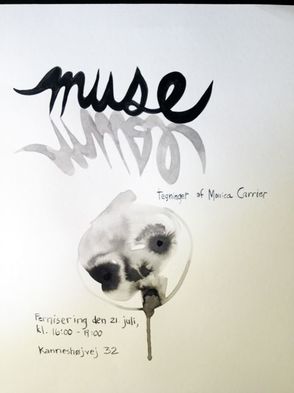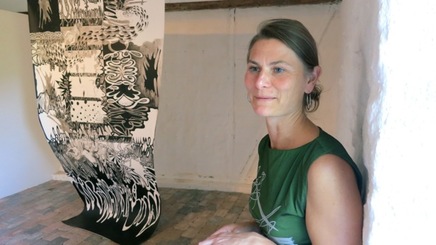 Vibeke Gilling
Monica's large scrolls contain her ink drawings of subconscious imagery, and ornamental text, initially inspired by her travel in India. From a distance, her drawings seem like abstract patterns, but up close they reveal hundreds of detailed drawings.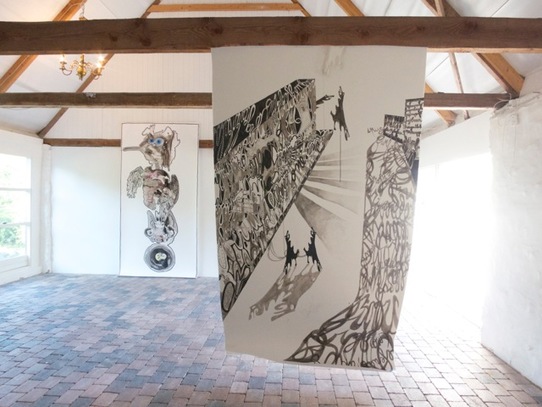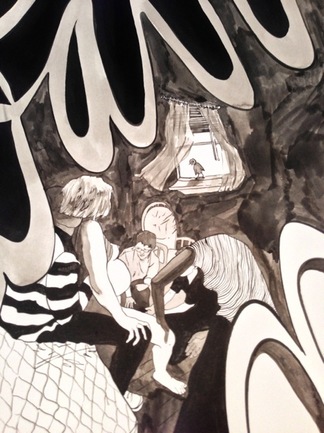 Monica's collaborative drawing room: one to one conversations with participants, as they blot a sheet of paper with ink. Afterward, Monica finished the drawing, finding the muse(s) within.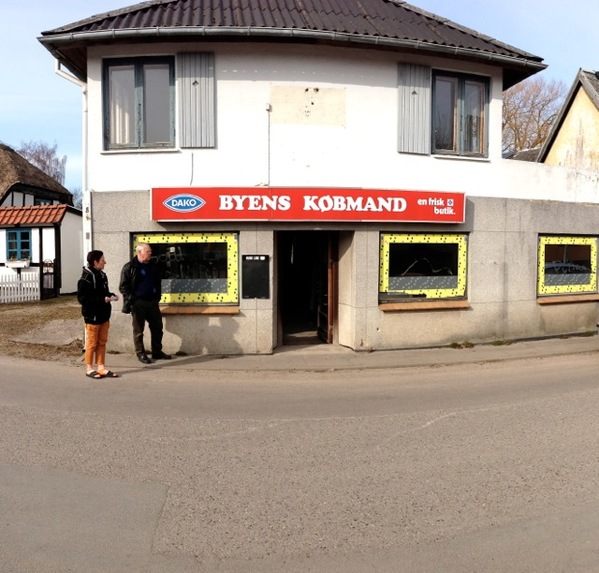 Site 3: empty storefront
Spring, 2013
For Julia Whitney Barnes, I suggested a former grocery store that had been empty for years. When I met with the owner of building, Ghita, she told me the story of having bought the building at the height of real estate prices, intending to restore it and turn it into apartments. However, the building needed a lot more work than she and her partner had anticipated, and they ran out of funds to continue the renovation.


Host: Asger Neimann
At the very first meeting for the art group, in 2012, Asger offered to host Julia, with his wife Johanne. Asger is an avid potter and he felt they would be a good match, based on the work of Julia's I had shown to the group.

Every summer, Asger and Johanne move from their house in town to their house by the beach, about 3 km. away. This meant Julia could have their entire "winter house" to herself.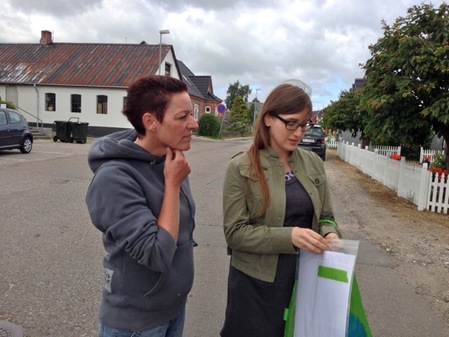 Julia meeting Ghita for the first time, getting keys to building and discussing her plans for the storefront.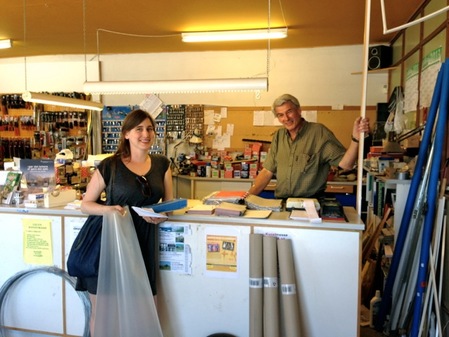 Fjellerup Trælast & Byggemarked
Julia with Lars, owner of the local hardware store, who donated the Finnish birch for Julia's window installation.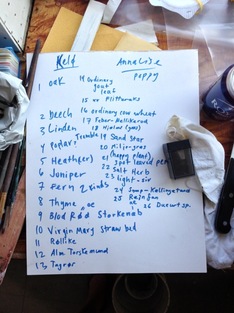 Julia's page of flower names, with Danish translations by Keld Koustrup.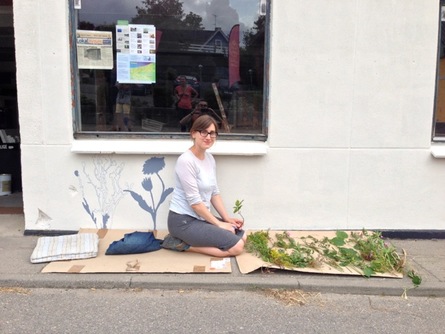 For her work, Fjellerup Flora, Julia found plants around Fjellerup, knocked on doors and asked if she could pick some, in order to trace and paint for the exterior of building. Through this process, and painting in view of all on the street, Julia came to know many of the locals. Some stopped to ask if they could help and artist-hosts pitched in when it got close to the opening date.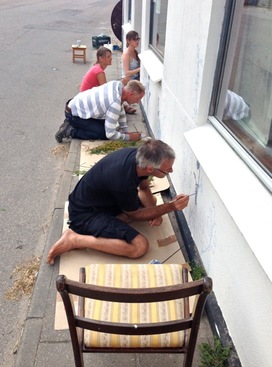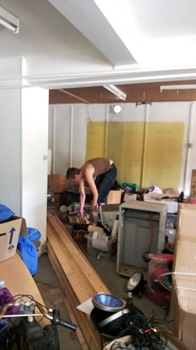 photo by Tommy Sørensen
Julia getting help with exterior, while I clean up and organize the interior.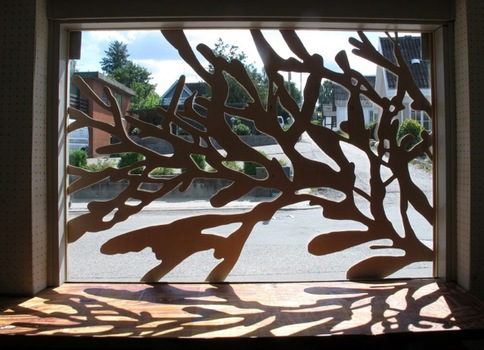 photo by Julia Whitney Barnes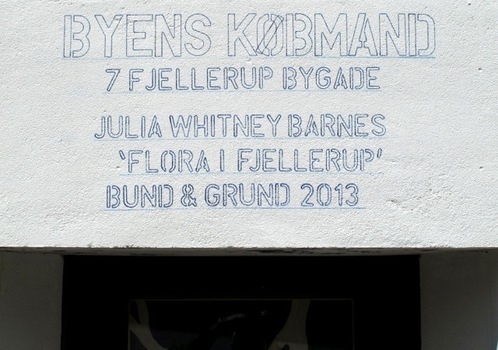 photo by Julia Whitney Barnes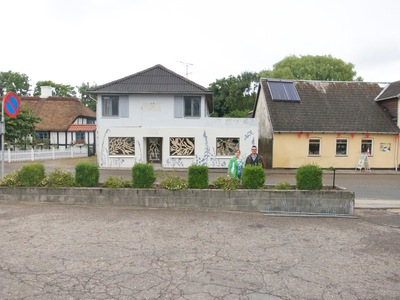 Julia with boyfriend, Sean Hemmerle, who also visited Fjellerup and assisted Julia - standing in front of Julia's art on Ghita's building and behind the wall and parking lot of the Fjellerup bakery. The bakery owners extended an invitation to Julia, to continue her work on their parking lot.

Opening of Julia's Fjellerup Flora
July 28th, 2013
For Julia's opening, Bent Sølyst invited Bertel Haarder - a national politician with Fjellerup ties as it's his wife's birthplace - to introduce Julia. In his speech, Haarder envisioned the buildings of the whole street continuing to be decorated by artists.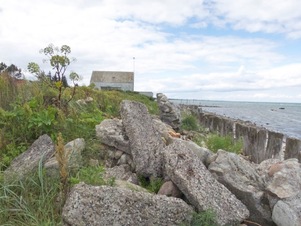 Site 4: Thomsens Ishus
The rocks around Thomsens Ishus gave me the idea of a ruin path for Norbert Francis Attard, whom I had worked with in 2010, for my project in NY community gardens - he had told me about the oldest temple in the world, in his country, Malta. The scattered rocks in Fjellerup consist of partly collapsed buildings as well as an old dairy in town - put there by fishermen to help keep the sand in place.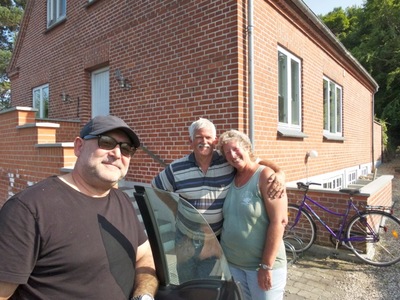 Visiting Steen and Lianne Lassen - Steen acted as project treasurer and had train reimbursement ready for Norbert.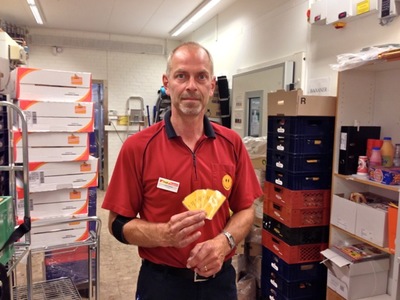 Dagli'Brugsen, Fjellerup
Steen Lassen was also in charge of contacting local stores to have them donate goods to the visiting artists. This included Brugsen, the only grocery store in town (a chain,) and manager Lars Lisbjerg donated ca. $100 pr. artist for groceries - the yellow coupons he is holding.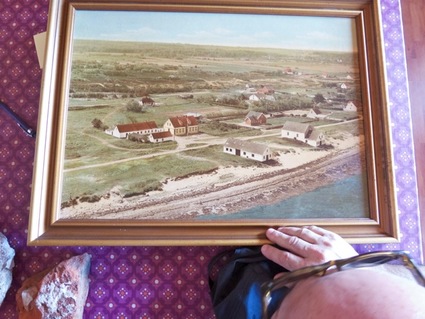 The previous year, I had contacted Ruth Nielsen, when I learned that she is the owner of the stretch of beach with scattered building parts, as well as a Fjellerup landmark - a big "ice house" used to store ice collected during the winter, for fish. She agreed to have both path and ice house be used for the art project, and when Norbert and I visited her, she showed him an aerial photo of the building, from the 50's. It shows the ice house before the front of it collapsed (second white building to the right, on beach.)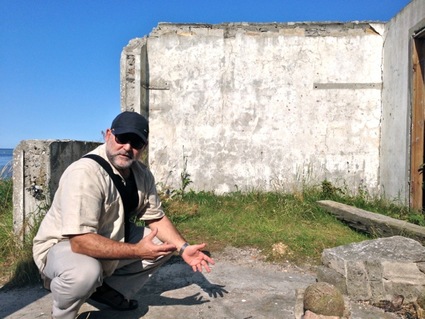 I had told Norbert that I was doing a "Gourmet Pop-Up" in Fjellerup, with my chef friend Helle, and as we walked along the path to the part of the ice house that has partially collapsed, Norbert had an epiphany. He wanted to start with clearing out that space, "free" the large rocks in front - and have this site be ready in time for our Gourmet Pop-Up. He also wanted to hang Ruth's photo on a ruin wall for the dinner, as it was the photo that was at the root of his inspiration.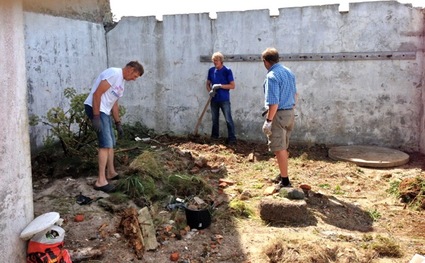 Hans, Børge and Tage.
Norbert and I started the digging by hand and, one by one, s small team came into place. Tage found an exhausted Norbert and asked if he could help - and soon brought Hans. Asger, the host of Julia, also came to help and contacted Børge.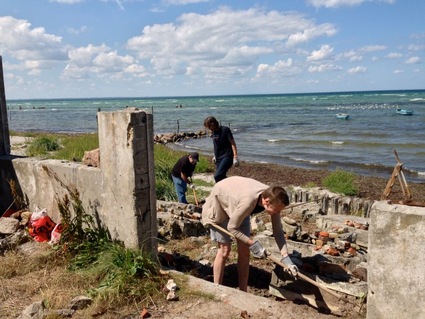 Norbert, Nathan (Monica's husband) and me photographed by Julia Whitney Barnes - who also helped dig.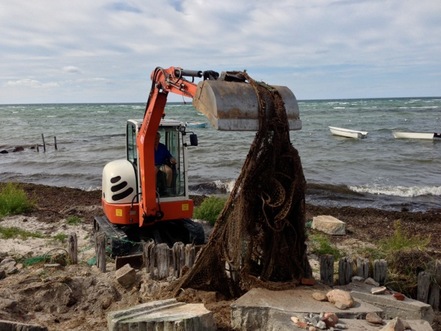 While much of the work for Norbert's project could be done by hand, I also contacted Ole Willesen - with whom I had started my initial conversation about Fjellerup and art - to see if he would volunteer his skill and machinery for heavy work.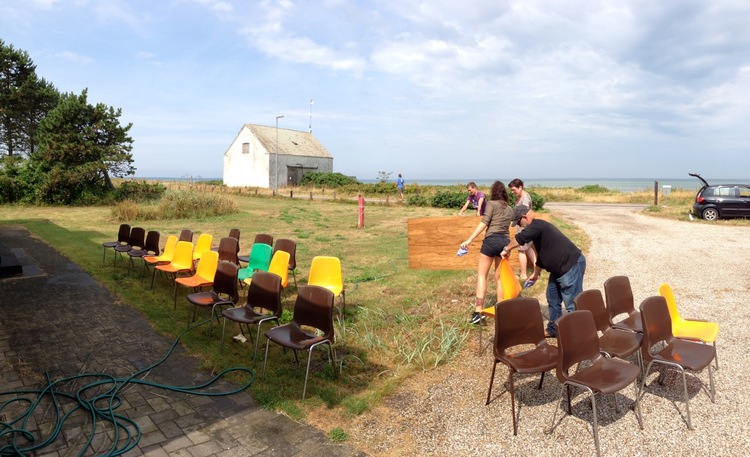 Preparing for Gourmet Pop-Up, borrowing Ruth's table tops and chairs (same day as Julia's opening.)

I've been friends with Helle, a chef, since we were teenagers and she arrived with her daughter, Emilie, and sister Merethe to help with the dinner. Another friend of ours from same period, Henriette, lives in Fjellerup seasonally, and she also was part of the Pop-Up team - along with my nephew, Tyler.

Pop-Up dinner, July 28th, 2013
This was my first pop-up collaboration with Helle and I specifically wanted it to be a gourmet experience - to contrast with the fried food currently served on the beach. Helle prepared several cold courses, setting up in the tiny room behind the open doorway. If necessary, guests were allowed to go across the road and use Ruth's restroom.

Vibeke Nilars and husband Erik made new hooks for the rack to the right, and Erik also helped Norbert with one the sculptures along the path.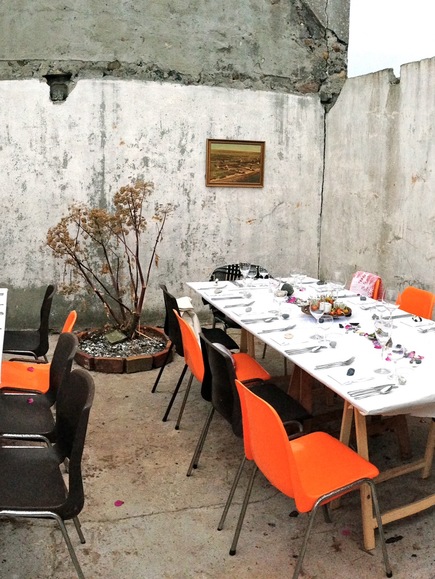 Ruth's photo on the wall at dinner, just as Norbert envisioned.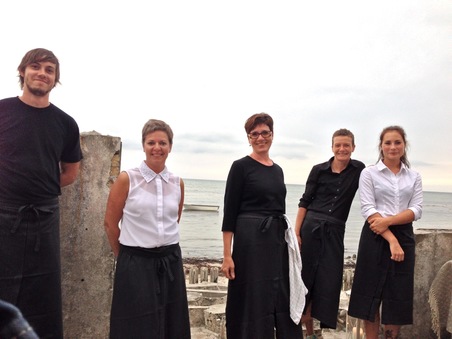 Gourmet Pop-Up Team, left to right: Tyler, Henriette, Helle, Merethe and Emilie.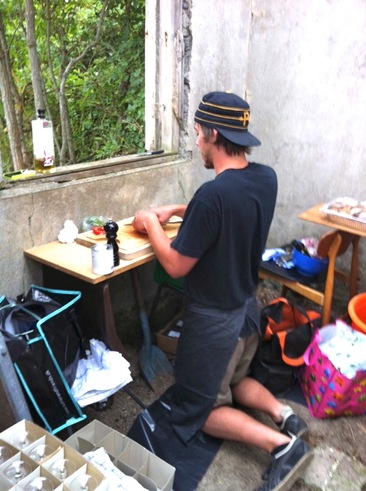 Food preparation by Tyler - photograph by Helle Alexandersen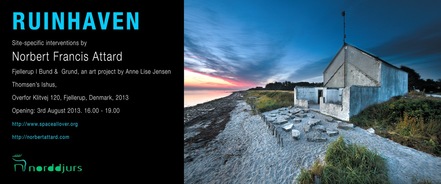 Norbert's invitation for opening, July 29th, 2013
Norbert got up at 3 AM in order to make this photo of the sunrise by what he ended up calling Temple and Ruin Garden, Ruinhaven.

For the opening, Steen and Bent invited the regional mayor, Jan Petersen to introduce the work and Norbert. Jan Petersen, talking to Ruth in the left of the picture, offered his support of the ice house in his speech and to help town preserve the shell of the building, with its "raw patina."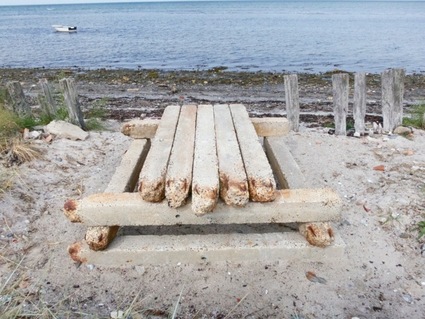 In addition to the Temple, Norbert also made this picnic bench, the Oracle.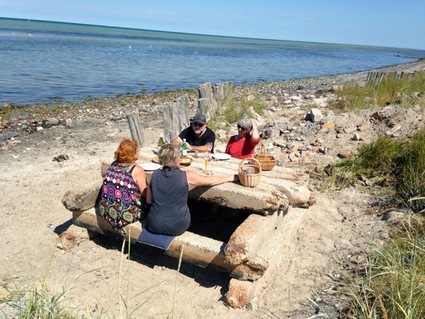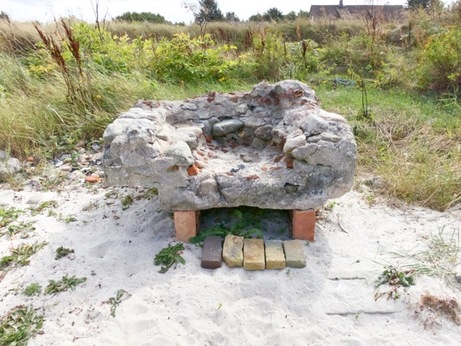 Norbert's Goddess, Gudinden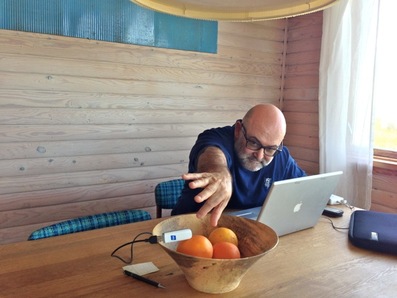 I hosted Norbert and along with my nephew, Tyler, we all shared my internet plug. The connection was shaky at times and Norbert claimed the touch of an orange made the difference

Site 5: Fjellerup-Bønnerup path
I rarely did sporty activities growing up but have one memory of a biking trip on the path between Fjellerup and Bønnerup, with family and friends - and I thought this path would offer Jo Q. Nelson a lot of options for her work. First, though, I had to get permission to use the path, and when I contacted Michael Iuel - owner of path and local castle - he was brief but affirmative on the phone: "I do not foresee any problem with you doing this art project, as long as there is no loud sound involved that scares the game."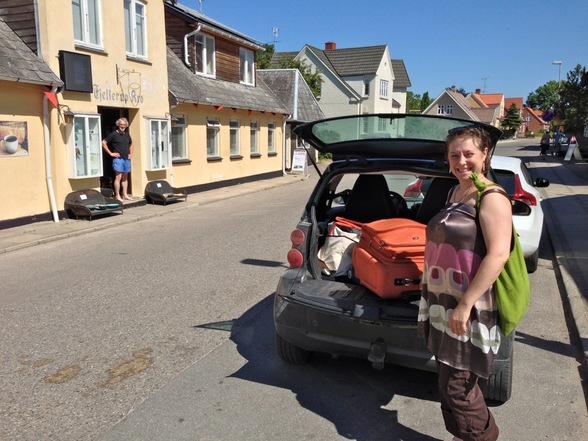 Host Franz and Jo Q. Nelson
Frants in doorway, ready to greet Jo, whom I had just picked up in Aarhus. Frantz and Bodil hosted Jo, and they are owners of the former inn in Fjellerup, that they have turned into a B & B, as well as their own studios.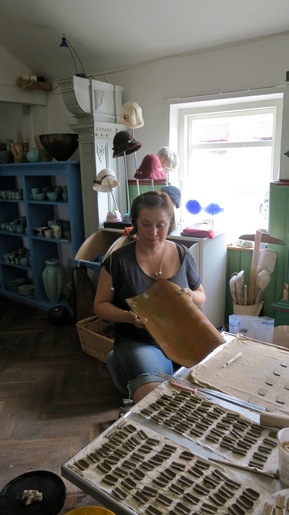 Fjellerup Kro
Due to her hosts' studios, Jo ended up spending more time in the studio than at her social practice - which she embraced, to her own surprise. She made hundreds of ceramic roof tiles, burned in Bodil's oven, for a partial sand castle as well as using Frantz' wood studio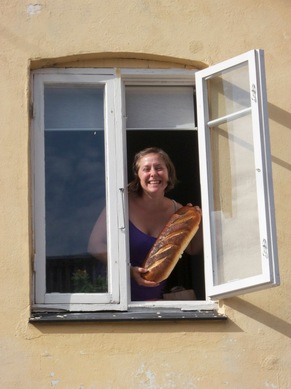 Jo holding one of the loaves, Preben Hougaard Jensen made weekly and I would dropp off for the visiting artists. Preben is a potter and goes by the name Preben Bager, Preben the Baker - he bakes these 850 grams breads in his ceramic oven.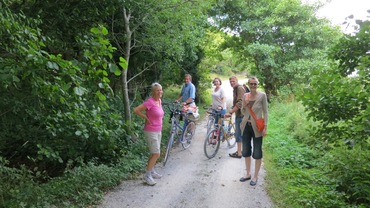 Tage & Kirsten and Hans - whom we met when working on Norbert's project - offered to be guides for Jo on a biking trip - and it was during this trip, Jo got all her ideas for her final installation.

Pottehuset
Aase and Troels Kvorning , both full time potters, invited us for dinner - my first next to a cornfield - where I learned that they both speak Swahili.
Left: Troels. Right: Julia and Jo (front.)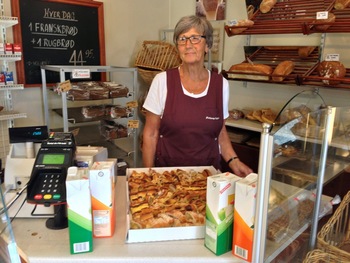 Fjellerup Bageri
The opening included a picnic and local bakery donated cake for the picnic.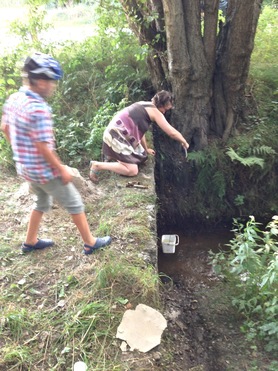 Jo made three installations along the path and, one, she was not able to make until morning of opening: the partial sandcastle. She devised her own system to get water from the creek to mold the sand.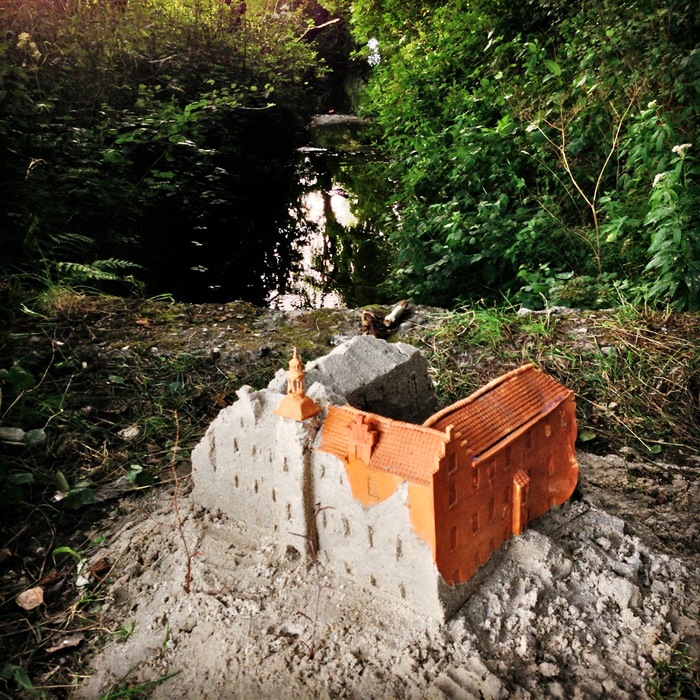 Jo's partial sandcastle, modeled on Meilgaard Gods, with the ceramic tiles she'd made in Bodil's studio.
article, LokalAvisen
For the opening, we invited all to meet at the Fjellerup entrance of path; Steen Lassen introduced Michael Iuel who cut the red ribbon - with a scissor Tage brought in a haste, as we had not thought of it. Iuel duly noted it wasn't a gold scissor, and in his speech mentioned how the partial sandcastle reminded him of the big fire at the castle, a few years prior, and how he had learned from Jo's research.
Jo's ox-drawn kneading installation, on the site that previously housed an 18th century mill.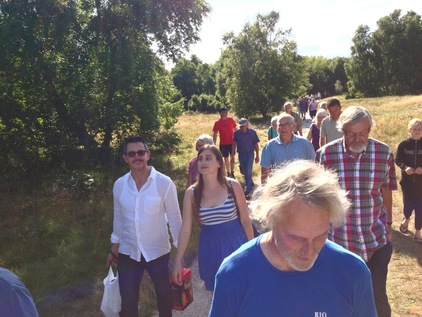 Walk between the installations as part of Jo's work.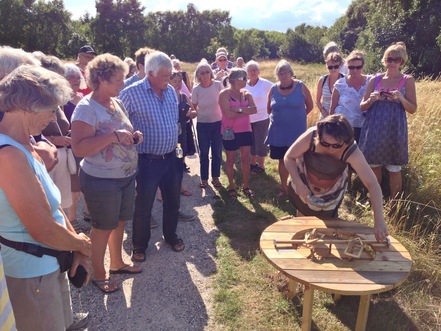 Kneading instructions by Jo.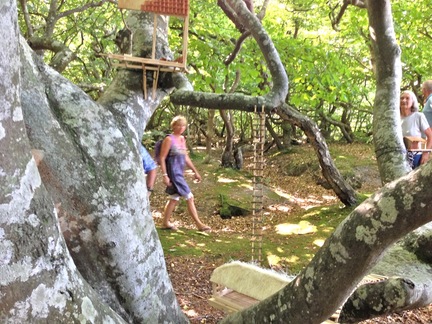 Jo's third installation: a fantasy settlement in Troldeskoven, playing with the myths of the place.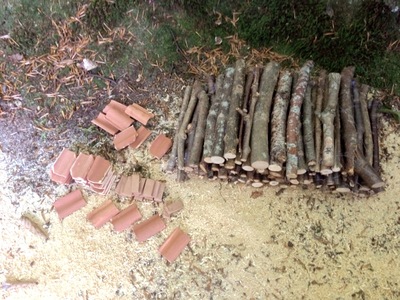 detail - the piles of wood that fascinate Jo.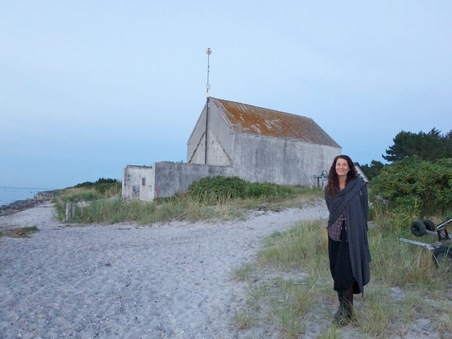 Site 6: Thomsens Ishus
I met Christine Sciulli when we were both exhibiting at Edward Hopper House, where she filled up two entire rooms with an indoor light projection onto branches. This made me wonder about Christine doing an outdoor projection in Fjellerup, and I suggested Thomsens Ishus.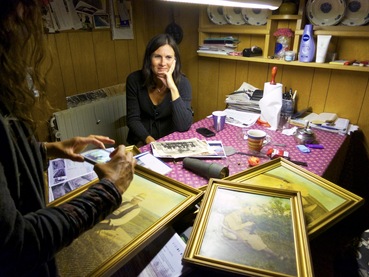 I introduced Christine to Ruth Nielsen, and daughter Kathrine, and Ruth brought out old photographs. The building for projection, Thomsens Ishus, has been in the possession of the family for generations and was used to store ice for fish.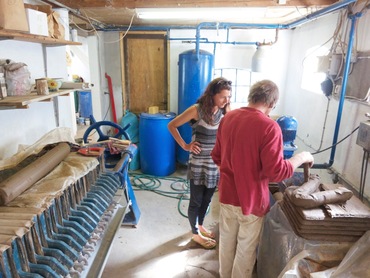 Stopping by Preben Bager, who made the weekly breads for the visiting Fjellerup artists in his ceramic oven.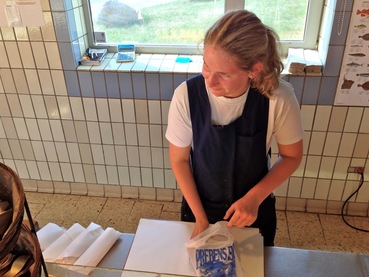 Prebens Fisk
Prebens Fisk, supplier of lunch (and dinner) for Christine.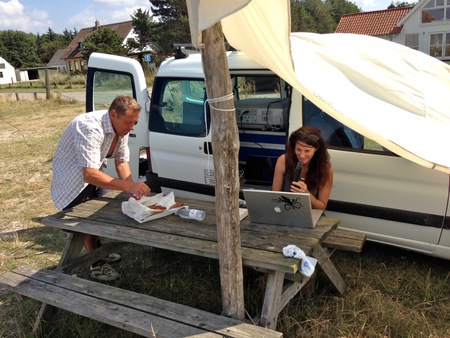 Tage arranging Prebens Fisk lunch for Christine - in addition to supplying her with van to safely store the large projector and sun shelter.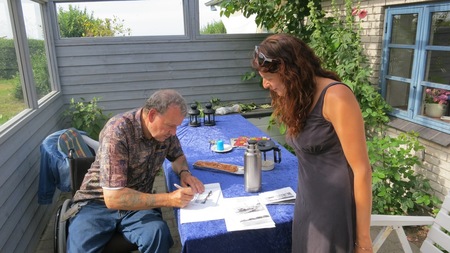 Stopping by Egon & family (Egon is the only one left of his generation of pound net fishing) and running into Arne, a cousin. Christine ended up integrating some of Arne's copies of old photographs into her final work.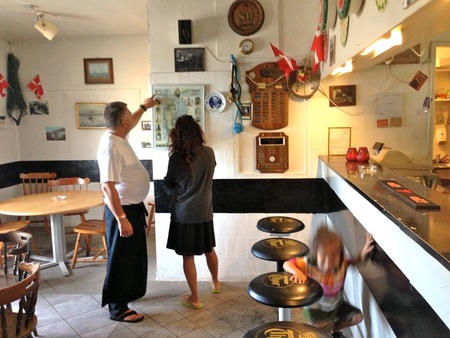 Strandkroen
Also a visit to Peter Knud Thomsen, manager at Strandkroen, who told Christine more Fjellerup stories - while I was getting ideas for future use of some of the rooms in the large building.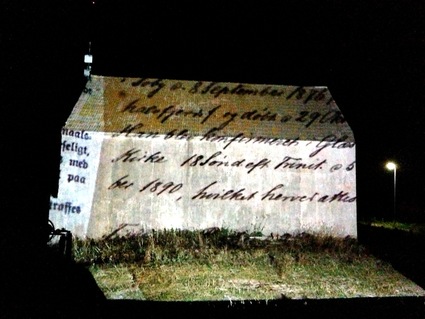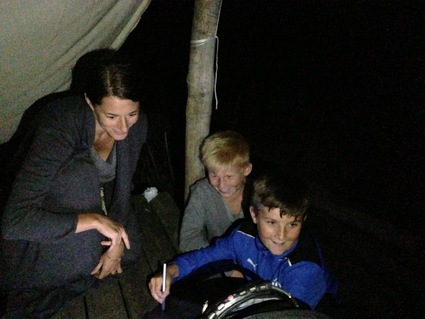 Practice night II: Christine invited Ruth's grandson and his friend to a workshop, and to shape projected wall images via a stylo.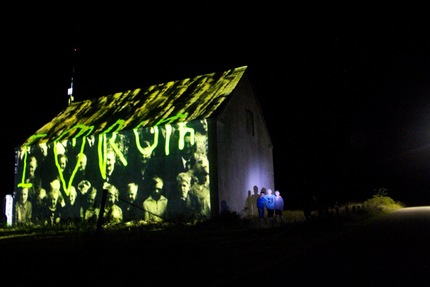 photo by Christine Sciulli
Final work by boys, posing here with Ruth.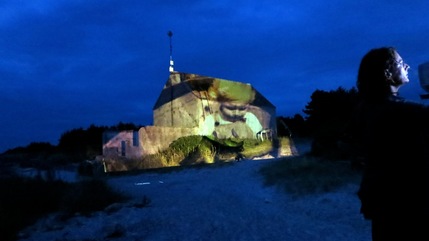 Projected childhood image of Hemming Nielsen, Ruth's deceased father-in-law.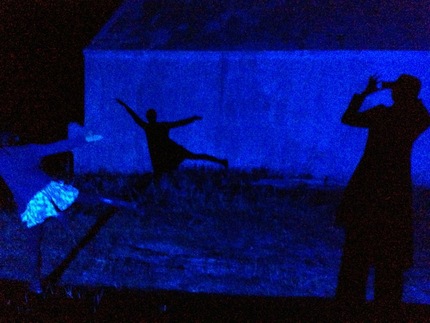 End of practice night II: decompressing before bedtime.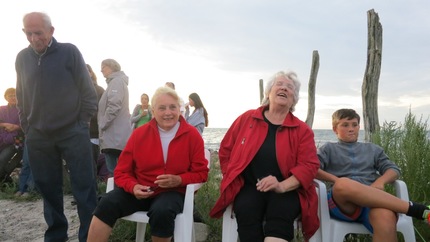 Thomsen family and Ruth Nielsen