Public Program
I named this project Ruth's Have (Ruth's Garden), hoping name would stick for garden by Thomasminde, and it took place by the beach in Fjellerup for the month of June. I'd invited visiting artists Alyssa Casey and Jon Henry to make sculptures in the garden of the Thomasminde house - providing a framework for the potlucks and public discussions I organized, on theme of ecology. The project is supported by Norddjurs Municipality's Kulturpuljen 2015.



Lokalavisen article on Ruth's Have
Thomasminde
Jeg kaldte dette projekt for Ruth's Have, med håb om at navnet fortsætter til haven ved Thomasminde, og det foregik ved Fjellerup Strand i juni måned. Jeg inviterede besøgende kunstnere Alyssa Casey og Jon Henry til at lave skulpturer i haven ved Thomasminde - til at danne rammen om de offentlige potlucks (fællesspisning) og diskussioner jeg organiserede omkring temaet økologi. Projektet er støttet af Norddjurs Kommunes Kulturpuljen 2015.
Gl. Estrup Væverne
Alyssa Casey learning to weave with willow, in a two hour workshop by local weavers Sonja Schultz and Inge Madsen, in Auning.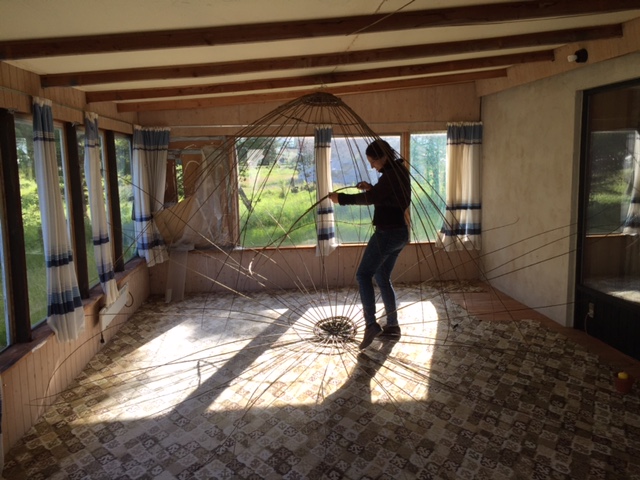 The sun room that became Alyssa's studio.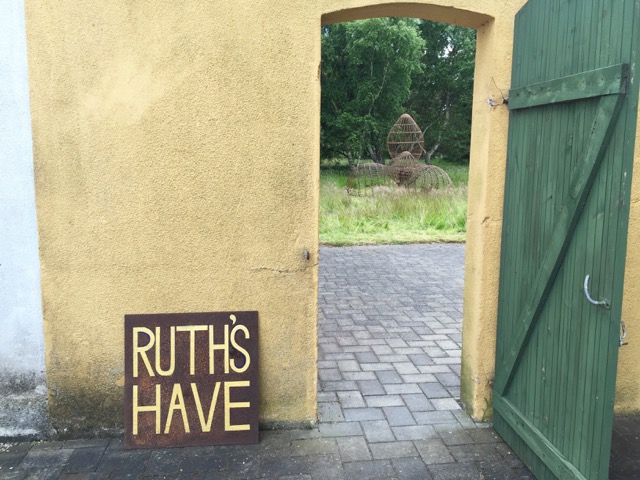 Sign found by me and painted by Alyssa, by entrance to what became Ruth's Have, with Alyssa Casey's Vandmolekule in background.
Alyssa Casey
Vandmolekyle/Water Molecule
Pileflet/willow weaving
Circa 4 x 4 x 4 meter.
Text from Alyssa Casey:
Vandmolekyle draws from local knowledge, experience, and hands-on, practical techniques to depict a fantastical vision of that which we take for granted. The five baskets represent the molecular orbital diagram of water. Each region of space encapsulated by a basket shows the probability of where the electrons of each atom of water are likely to be found; oxygen is at the center, two baskets represent the oxygen-hydrogen bond, and the other two represent the pairs of valence electrons responsible for water's vital properties of solvency, cohesion, and adhesion. The willow is grown by the basket weaver Inge Madsen, in Auning, and I took a two hour basket weaving workshop from her and Sonja Schultz. As I continued working at Ruth's Have, local visitors could learn the technique as well, thus creating a conduit of local knowledge and sparking new conversations.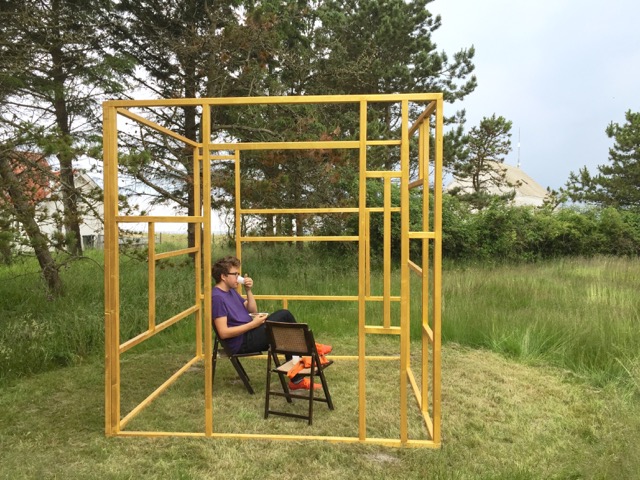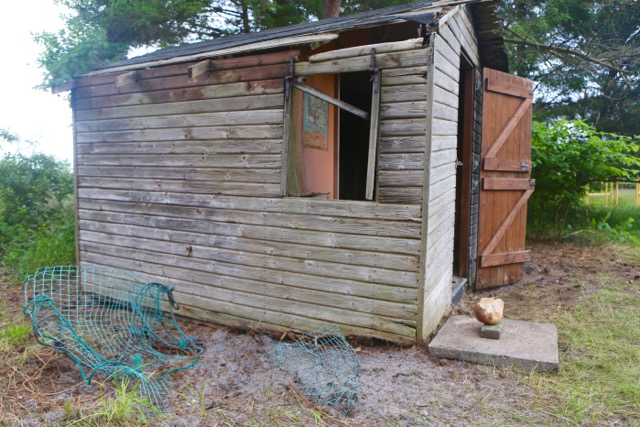 Anna Lise Jensen
En Værdig Afsked/ A Worthy Farewell
Found objects (inside house and via digging around house), bee hives, photograph.
I chose to do an excavation around this rotting structure, a former hunting hut and playhouse.

I found: a netted plastic fence & rope, large tile, partial soccer ball, small ceramic square (signed), pedestal and a dead tree.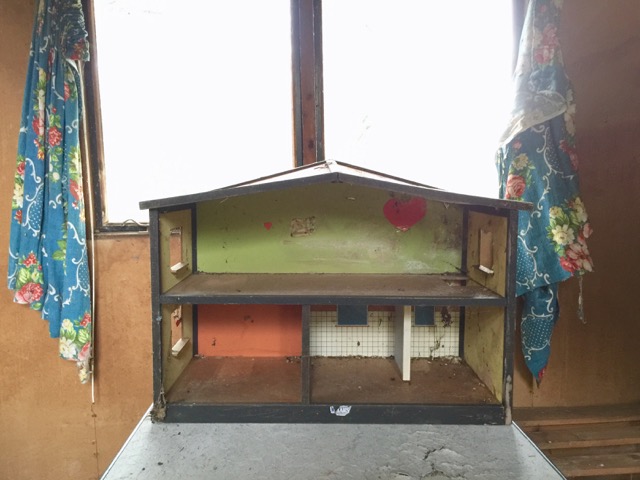 I also cleaned up the hut and its contents: a dollhouse that was decaying along with the hut. I then placed an image of the three beekeepers I found in Fjellerup on wall facing the beehives I placed outside - it is my hope the local beekeepers will set up hives on the land of Thomasminde. These actions combined made A Worthy Farewell to a cabin facing collapse.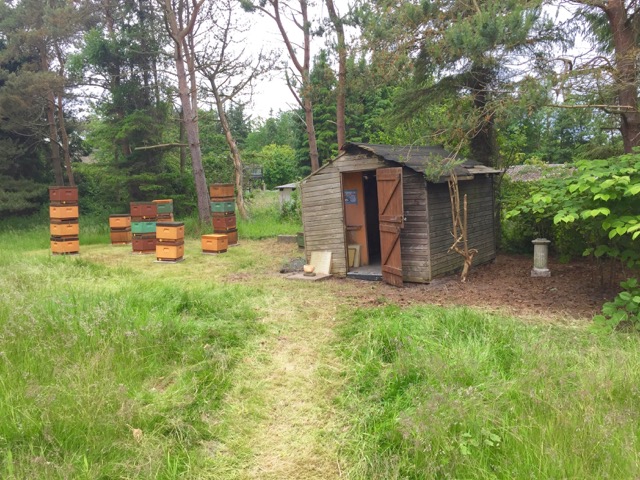 Ivan Nielsen
My video interview
Beehives as sculpture and link to the future, when hut is gone - lent to me by Ivan Nielsen, Himmerland beekeeper and a prominent queen breeder, who was introduced to me by Fjellerup's Inge-Lise Møller
Video interview
My photograph of Fjellerup's three beekeepers, behind bee-screen. There are three beekeepers in Fjellerup: Freddy Juul and Thorbjorn & Inge Knudsen. I interviewed Freddy and Thorbjorn in Ruth's Have, to discuss their possibility of them setting up bee hives in Ruth's Have.
Jan Petersen speech
recorded by Vidar Håkon Utvik
Opening of Ruth's Have, with a speech by mayor, Jan Petersen.
Bifrost
Visit from Bifrost (developmentally disabled artists from Randers) and conversation with local vicar, Michael Piilgaard, on ecology and art.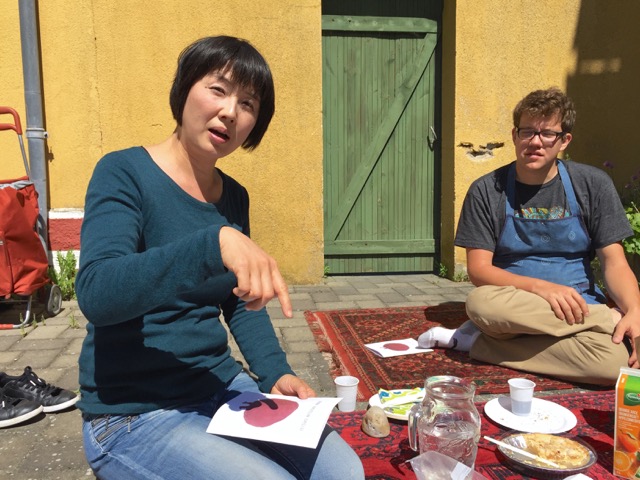 Tetsuko Matsuzuka, Bifrost teacher, and Jon Henry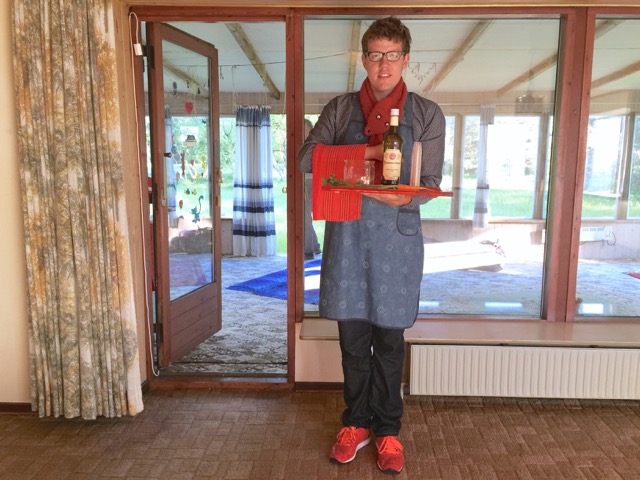 Jon Henry, greeting all visitors with snaps and water.
Esther Hjort interview
Movie Night: the documentarian Anna Elisabeth Jessen introducing her radio interview with Esther Hjort, who ran a "trikotage" store in Fjellerup from 1946 to 2003. The interview is made as Esther is closing down her store, and was broadcast for Danmarks Radio (DR).
Fjellerup Fiskerøgeri
En dag i juli 1961.
8mm film from Fjellerup via Jørgen Aabenhus, made by his father, Svend, in the early 1960's.
Danish text from Jørgen:
Fiskerøgeriet begyndte i "Det gamle Hus" (nu Klitvej 18) som Otto Jensenius Aabenhus (1880-1965) overtog 1904. Han var fisker; i 1931 opførte han det nuværende fiskerøgeri – over for det hus han byggede efter at være blevet gift i 1907 (nu Klitvej 26). Sønnen Johannes Aabenhus (1909-2010) overtog røgeriet som han videreførte til 1979.
I filmen ser man ham, hans kone, Sigrid, tre af hans fem sønner (Henning, Svend, Niels), samt de kvinder der var ansat i Fjellerup Fiskerøgeri.
Smalfilmen der viser arbejdsgangen fra den ferske fisk køres ind, til den pakkede røgede fisk køres væk, er optaget i juli 1961 af Svend Morten Hansen (1924-2011); han var gift med en af Johannes Aabenhus' søstre – og havde i øvrigt som bygningskonstruktør i 1950erne stået for på opførelsen af den fløj mod øst som nu indeholder Prebens Fisk's butik.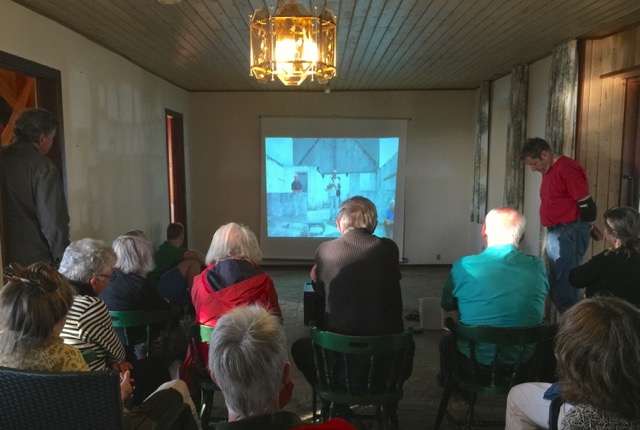 In addition to the old Fjellerup film, we also watched Tage's video from Norbert Attard's opening of Ruinhaven - that took place as part of Fjellerup i Bund & Grund, 2013.
Wadden Tide
Potlucks every Thursday, this one featuring Anne talk by Mette Laursen, Project Manager of Wadden Tide festival.
Twitter Conversation: Untitled Entaglements
June 17th, 2015
1 PM EST - Kl 19, Fjellerup
As part of Harrisonburg, VA's Valley ArtsFest, The Old Furnace Artist Residency, along with Space All Over, facilitated a Twitter conversation around the impact of art and ecology - in daily relationships, life, and communities.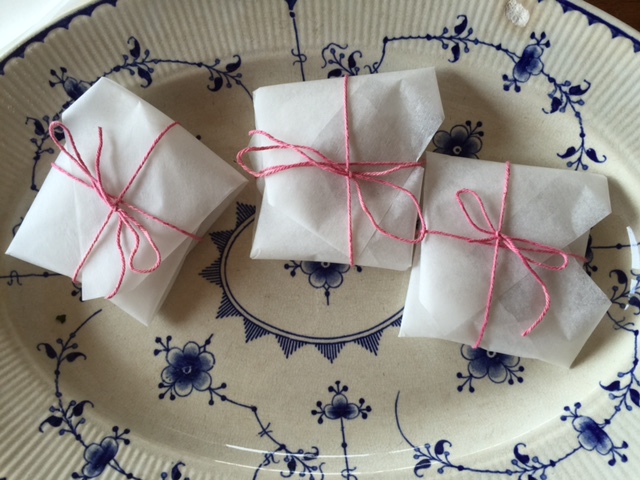 Alyssa Casey made different cookies for all the potlucks, these ones for the opening.